Students and Staff Celebrate Read Across America Week
Posted on March 7th, 2013 at 8:45 PM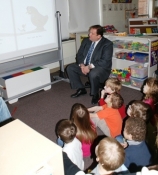 In honor of Read Across America Week, which celebrates the 109th birthday of Dr. Seuss, celebrity readers from across the community visited the Elizabeth Lee Black School to read to students. Erie Mayor Joe Sinnott stopped by the Happy Hearts Preschool class on Thursday, March 7 to read the children's classic "Are You My Mother?" by projecting a digital copy of the book from an iPad to a screen.
"He came to a kitten. 'Are you my mother?' he said to the kitten," read the Mayor to the preschoolers. "The kitten just looked and looked. He did not say a thing."
The interactive reading featured animations and sound effects, which helped to keep the students attentive and engaged.
Mayor Sinnott joined more than 40 celebrity readers, including Lisa Slomski of First Niagara Bank as well as Caitlin Henning and Alyson Amendola of the Young People's Chorus of Erie, who set aside time to read to students at our school throughout the week. Many Barber National Institute administrators volunteered to read as well.
In addition to guest readers, youngsters had fun celebrating with a wacky hair day, crazy hat day, and pajama pants day. Students decorated office and classroom doors in a "Seussical" fashion as part of a contest and winners will receive pizza parties.
Initiated by the National Education Association in 1997, Read Across America Week promotes the importance and enjoyment of reading to children in the United States. It is held annually in conjunction with Dr. Seuss' birthday.