Student-Designed Scarves for Sale at Ladies-Only Luncheon
Posted on October 16th, 2018 at 6:05 PM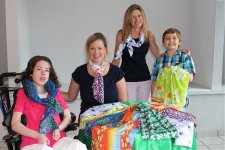 The unveiling of a new line of scarves designed by students in the Elizabeth Lee Black School is just one of the exciting features of the
Ladies Only Luncheon
that will be held Saturday, Nov. 17 at the Kahkwa Club. Six beautiful scarves, ranging from abstracts to animal prints, will be available for sale, along with raffle tickets for more than 40 gift basked each valued at a minimum of $300.
Tickets are also available online now for
the Premier Prize
, a stay at a luxury resort near Tampa, Florida and $3,000 spending money, and the
Diva Design Prize
, a Tory Burch handbag, bracelet
and
matching accessories.