Student Dance Benefits Programs for Adults
Posted on June 29th, 2016 at 6:15 PM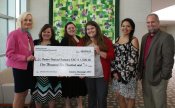 The Council for Exceptional Children, a student organization at Edinboro University, recently raised $1,500 from a dance that was held at the university. Dr. Maureen Barber-Carey, left, executive vice president of the Barber National Institute, and Jaclyn Zacherl Herrmann, Agency With Choice family liaison and ESO Coordinator at the Barber National Institute, accepted the donation from council members Ashley Ohmer, Lizzie Donikowski, Anna George, and Dr. Erik Bentsen, assistant professor at Edinboro University and adviser to the Council.
Students raised donations to participate in the "Dancing for a Difference" event, as well as sold merchandise, and held 50/50 and gift basket raffles. The event was also the first fundraising dance where individuals 18 and older with an Intellectual Disability were invited to dance for a portion of the night.
The funds raised will be used for the Barber National Institute "Expanding Social Opportunities" (ESO) Summer Camp as well as helping to expanding ESO activities that bring together area college students and adults with intellectual disabilities.