Staff Anniversaries Celebrated
Posted on May 1st, 2018 at 8:21 PM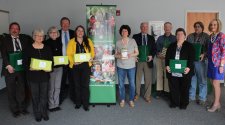 The Barber National Institute formally recognized 26 employees marking their 25, 30, 35 and 40 year service anniversaries with a luncheon and gift to commemorate the event. In addition, 14 employees marked 20 years of service, 13 reached 15 years, 24 celebrated 10 years and 54 staff marked their five-year anniversary. Congratulations to the following employees awarded for 25 – 40 years of service:
40 Years Service
Dr. Maureen Barber-Carey, Executive Vice President
William Skirzynski, Program Specialist Coordinator
Kathleen Bastow, Quality and Compliance Coordinator
Kathleen Fling, Vice President, Human Resources
Debra Brumagin, Lifesharing Benefits Associate
Linda Kaminski, Benefits Associate
35 Years Service
Pam Baker, Vice President, Family Focused Services
Stephen Davis, Transitional Work Manager
Leann Jarmolowicz, Registered Nurse, Training
Thomas Kownacki, Maintenance Repairman II
Mark Delio, Director, ID Services, Adult
30 Years Service
Karen Truchanowicz, Residential Support Professional
Mark Perry, Lead Habilitation Professional, ATF-OADLC-99
Lori Johnson, Programmatic Training Coordinator
Brian Brissey, Hab Professional, ATF-99
Cheryl Lepkowski, Retirement Services Supervisor
Cheryl Bilski, Family Support Specialist
David McNeill, Program Specialist IDS – Community Hab
Stephanie Lorei, Teacher, Early Intervention
Leslie Stravinski, Para-educator, AP
25 Years Service
Kelley Wensel, Lead Hab Professional, Community Endeavors
Thomas Davis, Habilitation Professional, Senior Center
Jennifer Lawrence, Director, ID Services Residential
Shannon Gilbert, Para-educator, PreK Counts Erie
Cherie Rouse, Certified Deaf Education Teacher
Nancy Swenson, Hab Professional, ATF-99
John Barber congratulates Jennifer Lawrence, Cherie Rouse, Kathy Fling, Brian Brissey, Kelley Wensel and Dr. Maureen Barber-Carey.
Left to right are Steve Davis, Linda Kaminski, Debra Brumagin, John Barber, Kathy Bastow, Shannon Gilbert, Mark Delio, Thomas Davis. Cheryl Lepkowski Tom Kownacki and Dr. Maureen Barber-Carey.