St. Vincent Hospital and Highmark Team Up to Sponsor Beast
Posted on April 29th, 2014 at 6:28 PM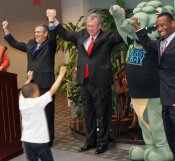 The Barber National Institute today announced that Highmark Blue Cross Blue Shield and Saint Vincent Hospital have committed to serving as Presenting Sponsors for the second annual Barber Beast on the Bay. The 10-mile obstacle course challenge will be held on Saturday, Sept. 6 at Presque Isle State Park.
The $25,000 sponsorship will help to ensure an enjoyable event for participants as well as a successful fundraiser in support of the mission of the Barber National Institute.
"We are indeed very appreciative of both Highmark and Saint Vincent for undertaking a major role in this event that is important for our community and for our organization," said John Barber, president and chief executive officer of the Barber National Institute. "With the support of these two community minded organizations, we can anticipate an event that provides significant benefits for the health and fitness of those living in the area, positive economic benefits for businesses in the region, and a brighter future for children and adults with autism and other intellectual disabilities."
As presenting sponsors, Highmark Blue Cross Blue Shield and Saint Vincent Hospital have made a significant commitment to Barber Beast on the Bay.
"We are excited to be joining our partner, Saint Vincent Hospital, as presenting sponsors for the Barber Beast on the Bay," said Neil Parham, senior community affairs analyst with Highmark Blue Cross Blue Shield. "Along with the Barber National Institute, we share a strong commitment to an active, healthy lifestyle and to providing opportunities for individuals with disabilities to be active in challenging, athletic community events."
In addition to their sponsorship of the event, health care professionals from Saint Vincent will assist in authoring a blog, The Nature of the Beast, to help participants prepare for the fitness challenge. Physicians, sports trainers and nutritionists will be providing tips to help with training, injury prevention and treatment, and healthy eating.
"We, also, are proud to join with Highmark and the Barber National Institute in sponsoring an event that focuses on teamwork, fitness and in the process fun," said Scott Whalen, PhD, FACHE, president and
CEO of Saint Vincent Hospital. "Saint Vincent associates, physicians and nurses have worked to focus more on prevention and wellness and together we hope to inspire participation in this community fitness event."
Since registration opened on Jan. 31, more than 770 people have signed up for Barber Beast on the Bay. The participants represent 15 states and an influx of tourists who are expected to have an impact on area restaurants, hotels and retail outlets.
"Our hope is that everyone will be able to improve their level of fitness and wellness because of what they are learning, including individuals with disabilities and their families," said Barber.
In addition to the ten-mile challenge, Barber Beast on the Bay includes the Maureen Riazzi Adapted Course sponsored by the Riazzi and Russo Families. This 1.2 mile course is designed for adults with intellectual and physical disabilities, and is believed to be the only one of its kind in the country. The course, which begins and ends in the Beach One area, features six obstacles, including one that will intersect with participants on the 10-mile course.
Other new features for the 2014 event include:
• A new course and new obstacles. The ten-mile course through the heart of Presque Isle will put participants through everything Mother Nature has to offer: sand, water, mud, trails and even phragmites. The course begins at Beach 11 and ends at Waldameer Picnic Groves with the final obstacle and a party for finishers and their friends and families.
•Lower registration age with sign up now open to registrants ages 16-17 with parental permission.
• Optional "elite" waves for serious competitors who want to be timed, do the whole course and every obstacle, and be eligible for awards.
•Optional timing for everyone. While some participants just want to finish, anyone who wants to be timed will have the option when signing up.
• Cheer zones with entertainment along the course. Area bands, vocal groups or organizations are invited to sign up for a cheer zone, and compete for a cash prize.
• A new pricing policy where the earlier you sign up, the more you'll save with the following discount schedule:
35% off - during April
30% off - during May
25% off - during June
20% off - during July
$100 regular price beginning Aug. 1 through Sept. 4
Late registration $150 on Sept. 5 & 6
Participants can earn a free or reduced price registration by signing up to fundraise for the Barber National Institute. Last year, fundraisers netted more than $12,000 in support of the Barber Institute mission. Top fundraisers are also eligible to win prize packages.
For more information and registration, visit www.BarberBeast.org