Seniors Present Gifts to Veterans
Posted on January 3rd, 2019 at 7:40 PM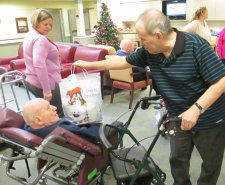 The Employee Service Fund provided the funds for the Lakeside Senior Center to purchase presents for residents at the Erie Soldiers and Sailors Home.
The adults and staff at the Senior Center went out shopping for gifts and delivered them – along with some holiday cheer – to the Erie facility. Our adults enjoyed being "Santa" for the day and the veterans appreciated being remembered at the holidays.
The Employee Service Fund receives voluntary donations from Barber National Institute staff throughout the year. Fund members are able to request donations in support of charities in the community, as well as to in emergency or disaster situations.