Santa swings by for fun day
Posted on December 17th, 2013 at 7:58 PM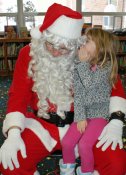 Though they are busy preparing for Christmas, Santa and Mrs. Claus took time away from the elves to make a stop at the Barber National Institute on Tuesday.
Santa and Mrs. Claus visited every classroom and surprised students with gifts picked especially for them. Santa and Mrs. Claus, otherwise known as Joe and Rhonda Schember, have been filling the holiday roles for nearly 20 years. They began when their daughter Jodi started in preschool at the Barber National Institute.
The Learning Center Parent Group holds fundraisers during the year to provide for holiday parties, as well as the purchase of Christmas presents for all students. The gifts are then selected by teachers in all of the classrooms.
The day ended with a fun Jingle Bell hop, a dance featuring some of our students and the Villa Maria Academy Student Council. And, yes, Santa even joined in on the fun! It was a great day and we're thankful to have had all our special guests join us.