Ringling Brothers Put on a Show for BNI Students
Posted on October 2nd, 2014 at 1:50 PM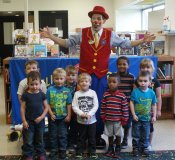 Andrew, a clown from the Ringling Brothers, began to juggle several balls. Two, then three, then four.
Our students at the Barber National Institute watched, and then smiled. Two, then three, then four. The room lit up as Andrew continued his performance, interacting with the children and getting them involved in the act. By the end, it was applause and laughter before each student left with a clown nose and information on the Ringling Brothers' upcoming performance at Erie Insurance Arena from October 23 to October 26.
Thank you to Andrew for stopping by to have some fun with us!
To see pictures from the event, please click here.