Ribbon Cutting Marks Completion of Sensory Play Space
Posted on August 3rd, 2023 at 6:52 PM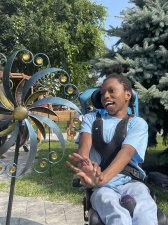 Erie, PA (August 3, 2023) – Today, the Barber National Institute Elizabeth Lee Black School students cut the official red ribbon on the completion phase of its sensory play space funded by a $39,000 grant from Erie Insurance through Pennsylvania's Educational Improvement Tax Credit Program.
"As we gather today to open our sensory play space, I thank Erie Insurance for our grant to establish a play space that will promote greater engagement and inclusivity. Today's ribbon cutting is just in time for the new school year," said Barber National Institute Executive Vice President Maureen Barber-Carey, Ed.D. "We also thank artist Hellen Tullio who designed the painted pathway in coordination with our staff and volunteered her time."
This space was created knowing the unique needs of the students as well as the desire to create outdoor sensory and play opportunities that were not previously available. It's important the students experience this new outdoor space using as many senses as possible, so a bird feeder, wind chimes and spinners, bubble tubes, outdoor play kitchen and utensils, steppingstones, and many more items were incorporated. Each classroom will also have its own raised garden bed and the ability to plant, water, and cultivate a flower, vegetable, or herb of their choosing.
"Our mission at the Elizabeth Lee Black School is to create an environment where each student can reach his or her full potential," says Dr. Maureen Barber-Carey, Executive Vice President of the Barber National Institute. "The sensory play space will help us achieve this mission by offering hands-on activities that provide engagement and foster a comprehensive learning approach."
Earlier phases included the development of twelve activity stops along a fitness trail, as well as a brightly colored ribbon rainbow and clouds that surround a butterfly garden enjoyed by students, adults and staff. The activities in the fitness trail were developed by physical and occupational therapists in the Elizabeth Lee Black School to promote exercise, following directions and social interaction. The flat, wide trail can also be accessed by students using wheelchairs or other assistive devices.
The fitness trail will be used by more than 200 students ages 3 – 21 with autism, intellectual and physical disabilities and behavioral health challenges who come to the Elizabeth Lee Black School from 22 school districts across Northwestern Pennsylvania, as well as typically developing students in preschool programs.