Public Art Dedicated on Barber Institute Main Campus
Posted on April 13th, 2018 at 5:21 PM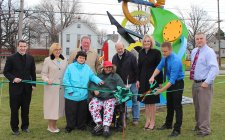 The community welcomed a new piece of public artwork to Erie's historic east Bayfront neighborhood on Friday, April 13. "Timeless Possibilities," is an artistic collaboration with students and faculty at George Junior Republic. It was dedicated at its permanent home on the Barber National Institute campus in conjunction with "Celebrating the Possibilities," the Jay & Mona Kang Art Show & Sale that is being held April 13 -16.
The theme of the piece reflects the Barber National Institute philosophy that, in a world where all persons differ, everyone should have the opportunity to develop to their fullest potential.
"We believe that the opportunity for artistic expression is important for enriching everyone's life, including persons with disabilities," said John Barber, president and chief executive officer at the Barber National Institute.
Barber also called the sculpture a gift to the East Bayfront neighborhood where the organization has had its home for more than 60 years. "We hope that this sculpture will expand public art that can be appreciated by everyone who lives and works in this area," said Barber. "Just as we see potential in each person, we also believe that it is important to support the potential that can flourish in our community. We have made a commitment to this east Bayfront neighborhood, and will continue to make an investment for its growth and stability."
The colorful sculpture features parts of a deconstructed clock combined with nautical elements reflective of its Bayfront location. The piece, which weighs 1,500 pounds and measures 8 feet by 15 feet, is fabricated with sheet metal cut, formed and welded by staff and students at George Junior Republic, an organization headquartered in Grove City, PA that provides educational, therapeutic and residential services for at-risk youth.
Fabrication of the piece began in summer, 2017 and took five months to assemble. Students and faculty then began priming and painting the sculpture with many vibrant colors of commercial grade paint designed to withstand temperature and weather extremes.
Faculty at George Junior Republic, which received the Governor's Award in 2017 for its sculpture program, expressed appreciation for the collaboration with the Barber National Institute. "To allow at-risk students to be a major component in creating public art work is something that means so much to all of us," said Glen Sanders, artistic director.
"Participating in such a project shows these young men that they are important and that their actions can make a positive impact to others around them. This work of art is a lasting reminder of the belief that others have in their potential."
The arts programs at George Junior Republic receive support from Erie Arts & Culture.
The piece was been transported to Erie courtesy of Barnhart Transportation, which also assisted with installation. Church Electric provided the equipment necessary to move the sculpture from the truck to a cement platform, and also assisted in securing the piece to its new permanent home.
Frank Fecko, director of the Fine Arts Program at the Barber National Institute, designed a mosaic that is being added to the concrete base of the sculpture. Eight adults in the Fine Arts Program have created the mosaic that consists of 12 panels measuring ten inches high to create a border along the edges of the concrete pad.
Floor Expressions in Erie donated ceramic and glass wall and floor tiles that have been broken into pieces to create the border suggestive of a shoreline. Shades of blue tile pieces were assembled to form waves between rows of brown tiles to create the appearance of sand.
The tiles are mounted on an adhesive setting mat and grouted to provide added resistance to inclement weather.
Watch the ribbon cutting here at GoErie or here at YourErie