Prom For Adults With Intellectual Disabilities
Posted on June 1st, 2016 at 8:26 PM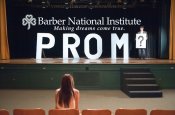 Expanding Social Opportunities (ESO) at the Barber National Institute and Project Prom will team up for "A Night to Remember," a prom for adults 18 or older with intellectual disabilities. The event will be held at the Ambassador Banquet and Conference Center's Garden Atrium on Friday, June 24, 2016 from 7:00 p.m. – 9:00 p.m. Doors will open at 6:30 p.m.
While formal wear is not required for the dance, participants interested in dressing up are invited to select dresses and men's attire that Project Prom will make available on Saturday, June 11 from 10 a.m. – 2 p.m. in the Barber National Institute gymnasium. A large variety of dresses in all sizes will be available to choose from, as well as a limited number of men's items. The formal attire will be available at no cost.
Tuxedo Junction in the Millcreek Mall is offering dancers a package for $75 that includes a tuxedo, vest, tie and shoes. They are also offering a free tuxedo that will be raffled off to interested adults. Anyone interested in entering the drawing should provide their name and phone number by calling 878-4088 or emailing jherrmann@barberinstitute.org
Admission to the event is $3 per person and includes refreshments. For more information, contact Family Support Services at the Barber National Institute at 878-4088 or jherrmann@BarberInstitute.org The Ambassador Banquet and Conference Center's Garden Atrium is located at 7792 Peach Street; participants should enter the Courtyard Marriot Entrance.