Preparation for Christmas Ball Continues
Posted on November 20th, 2013 at 2:04 PM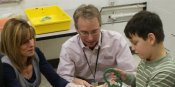 The Christmas Ball is quickly approaching, and with some help from the students and faculty here at the Barber National Institute, we're getting that much closer to being ready.
Chair Couple Tim and Gretchen Hunter lended a helping hand this week, working with students to make ornaments that will be put on the Christmas trees displayed at the Ball. Through Tuesday, they had made nearly 200 ornaments, each one carefuly crafted. The students will be painting the ornaments and getting them finished the week after Thanksgiving.
There will be plenty of other fun things to see and do at the Christmas Ball. Dancing, of course, will take place throughout the night. There will even be a special guest appearance from the Beast, our mascot from our "Barber Beast on the Bay" run!
If you're interested in attending the Ball this year on December 14, learn more about the event at http://bit.ly/barberchristmasball.