Pittsburgh Art Show Success!
Posted on May 24th, 2018 at 8:12 PM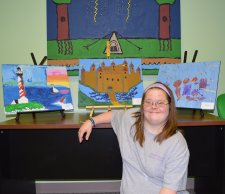 The 3rd Annual Art Show in the Pittsburgh region was held at 20 Emerson Lane, Suite 905, Bridgeville, PA on May 23 from 5-8 p.m., and featured nearly 60 pieces on exhibit. All artwork was created by individuals from our residential, day and habilitation programs.

There was a special dedication for a new Art/Music Room in the memory of Ronald Giannini.
Thank you to all who came out for the show and dedication!
Additional Photos