Pittsburgh Art Show May 23
Posted on April 30th, 2018 at 12:38 PM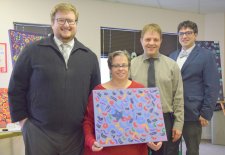 Join the Pittsburgh office for the 3rd Annual Art Show happening on Wednesday, May 23 from 5—8 p.m. at 20 Emerson Lane, Suite 905, Bridgeville, PA. The show will feature nearly 60 pieces on exhibit, all of which were done by individuals from the residential, day program and habilitation program.
In addition to the exhibits, there will also be a dedication for a Music/Art Room in memory of Ronald Gianinni.
Refreshments will be served and there will be a lottery wreath raffle. The event is free of charge, so don't miss out!