Philadelphia Foundation Funds Supplies
Posted on May 18th, 2020 at 4:24 PM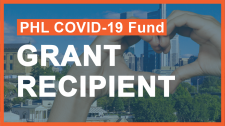 The Barber National Institute has been awarded a $50,000 grant from the PHL COVID-19 Fund, a partnership between the Philadelphia Foundation and United Way of Greater Philadelphia and Southern New Jersey.
The grant was awarded to support the Barber National Institute's 37 group homes in the Philadelphia region in meeting unanticipated costs associated with the epidemic. The additional costs include personal protective equipment such as masks, gloves and gowns and disinfecting supplies needed to help keep staff and residents safe. The grant also helps fund labor costs for employees now needed to staff the homes 24 hours a day while residents are quarantined in the homes.
"This epidemic has dramatically increased vital supplies and manpower that are needed to protect our very vulnerable population," said Debbie Burbules, vice president for operations at the Barber National Institute. "We are thankful to the donors of these two organizations that are helping us supply what is necessary to ensure the health and safety of the residents and the dedicated staff who are serving them through this challenging time."
The Barber National Institute has also received a $6,688 grant to help provide personal protective equipment and other supplies to the 55 group homes in Erie County.
The Barber National Institute also continues providing essential services that include Agency with Choice, which supports more than 500 individuals residing in their family homes; behavioral health services which are provided through telehealth to children, adults and families; early intervention therapies for infants and toddlers; and remote learning for more than 240 students in the Elizabeth Lee Black School.