Parent Message to Staff
Posted on May 10th, 2020 at 12:00 PM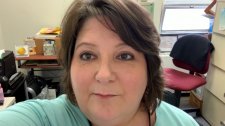 With group home residents quarantining in their homes, their families have not been able to visit in person since this pandemic began.
Parents, like Kim Sayre, find comfort in knowing that their loved ones are receiving the best care from Barber Institute staff.
From going on walks to working on IEP goals, hear what Kim has to say about her son Michael's time in his residential group home.