New Swim Session Starts August 27th
Posted on August 1st, 2018 at 5:45 PM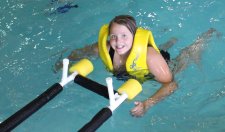 The new session of swim lessons begins Monday, August 27 and continues through Friday, Oct. 19.
Pool members can begin early sign up on Monday, Aug. 13 and non-members can begin signing up on Monday, Aug. 20.
Please call the pool office at 878-4071 to register.
The Arthritis class is ongoing every Monday—Friday from 1—2 p.m. Private swim lessons are available for $12 every Tuesday, Wednesday and Friday. Check out the schedule and more information here.