New Group Home Groundbreaking
Posted on May 10th, 2019 at 7:37 PM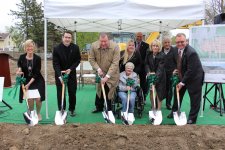 An addition will soon be welcomed to the east Bayfront neighborhood anchored by the Barber National Institute. Groundbreaking was held on Friday, May 10 for a new group home residence offering enhanced accessibility for adults with significant physical challenges. Construction will get underway soon on a modern, 4,800 square foot structure located at 203 East Avenue.
An older structure on the property was recently cleared to make way for the residence that will feature:
An attractive brick edifice with an outdoor patio accented by flower gardens and trees.
Four spacious bedrooms providing privacy for personal care needs. An office near the cluster of bedrooms keeps staff close by throughout the night.
Two living areas providing flexibility for resident's interests and preferences.
A large kitchen with portions of the counter at wheelchair level to enable residents to participate in meal preparation.
Circular driveway for easier transportation.
Two completely accessible bathrooms.
Wider doorways and hall ways.
The new group home is designed by Roth Marz Partnership and construction is being completed by Building Systems Incorporated (BSI) of Erie.
Donors interested in making a gift to support the construction project are encouraged to contact Laura Schaaf, director of Giving, at the Dr. Gertrude A. Barber Foundation at 874-5802 or lschaaf@BarberInstitute.org.