Mother's Day 5K & Fun Run
Posted on May 1st, 2013 at 5:00 PM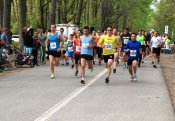 Celebrate mom's special day with the Mother's Day Race sponsored by the Erie Runners Club on Sunday, May 12 at Presque Isle State Park. Partial proceeds will benefit the Dr. Gertrude A. Barber Foundation.
Participants can choose from a ½ mile walk that is wheelchair, walker, stroller, and seeing-eye dog friendly and a 5K timed fun run.
Click here for more information and to register.