Make Your Voice Heard
Posted on January 9th, 2018 at 2:04 PM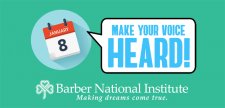 PAR, an advocacy group of Pennsylvania service providers, is organizing a campaign to contact Gov. Wolf as he prepares the 2018 budget this month. Employees, families and others in the disabilities community are asked to urge the Governor to include funding in the new budget to provide a professional wage for direct support staff. These are the dedicated employees who work hard every day in services such as group homes and adult day programs.
While a Call-In Day was coordinated by the Barber National Institute on Jan. 8, callers who could not reach the Governor's Office on this date are encouraged to support this effort throughout January by taking the following steps:
Call the Governor's office at 717-787-2500, where the phone will either be answered by staff or go to voice mail.
Identify yourself and the agency or geographic area you represent.
Thank the Governor for his support of persons with intellectual disabilities, and urge him to provide funding in the proposed budget to increase wages for direct support staff that would put them on a par with similar professionals who are responsible for the care of disabled and vulnerable individuals. You may relate information from your own experiences, or PAR has suggested comments.
Direct support professionals are committed to providing hope, opportunity and the best care possible for our most vulnerable adults. Providing the funding for a professional wage helps ensure that these dedicated professionals are compensated in a fair and equitable manner.
Thank you for contacting Gov. Wolf in support of this effort.