MacDonald Illig Donates $20,000 for Technology
Posted on February 29th, 2012 at 8:43 PM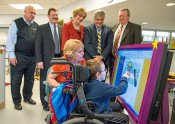 Thanks to MacDonald Illig Jones and Britton LLP for a $20,000 donation made through the Educational Income Tax Credit program to the school-age program at the Barber National Institute.
The donation will help fund technology such as TAP-it interactive boards, iPads and adaptive equipment to help students with multiple disabilities achieve greater mobility and independence.
Businesses that participate in the EITC program can receive a tax credit for donations to participating organizations.
If your business is interested in the EITC program, please contact Gary Bukowski, CFRE, vice president for Advancement, at 878-4033 or
GaryBukowski@BarberInstitute.org
This email address is being protected from spambots. You need JavaScript enabled to view it.
.
More info about the program can be found at BarberInstitute.org/giving.