Learn to Ride Bike Camp Application
Posted on February 23rd, 2018 at 7:09 PM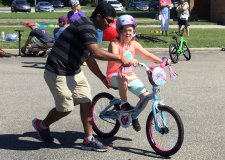 It may not look like a great time for biking right now, but it will be soon! Make sure that your child or young adult is ready with our Learn To Ride Camp. Provided free of charge with a grant from the Barber Foundation.
"Learn to Ride" Bike Camp is a four-week program to help children develop skills to ride their bikes independently. Bike Camp is presented free of charge to children through a grant from the Dr. Gertrude A. Barber Foundation. Applications now being accepted on a first-come, first-served basis for a limited number of openings.
Tuesdays, June 5, 12, 19 & 26 2018
Two Sessions are offered: 5 p.m. - 5:50 p.m. and 6 p.m. - 6:50 p.m.
Barber National Institute - West Parking Lot
Bike Camp is structured to meet the needs of children and young adults with autism, Down Syndrome or other special needs but is open to any youngster in the community who is able to pedal but who has not been successful riding without training wheels.
Children should be at least seven years and up to twenty-one years of age and able to steer and pedal.
Participants should bring a bike and helmet, but a limited number may be available for camp use.
Parents/guardians are requested to remain on site to observe each session.
For more information, please contact Cindy Priester at 814-878-4031.