Join Us at Bollinger Campus for an Open House!
Posted on June 9th, 2023 at 8:05 PM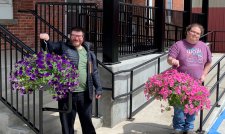 The community is invited to join the Barber National Institute Bollinger Campus for an Open House to celebrate our renovations!
The event will be held Thursday, June 22 from 4-6 p.m. at the Bollinger Campus, 44 North State Street, North Warren, PA. Tours of the new facilities and refreshments will be available; a dedication is set for 5:15 p.m.
The Barber National Institute's Bollinger Campus has completed a $1.4 million capital campaign and renovation of its facilities to expand and enhance services to adults with intellectual disabilities and their families in the Warren-Forest County region.
"We appreciate the generosity of so many to help us provide these much-needed updates and renovations that will help Bollinger better serve adults and families now and into the future," said Barber National Institute President and CEO John Barber. "We can't wait to show the local community what generous donations have accomplished. The public is invited to tour the renovated areas and see the impact they are already having on the adults and the services Bollinger is providing to enrich their lives."
Renovations to the Bollinger Campus include:
Improved lighting, painting, and flooring to the building at 48 North State Street, as well as a renovated entrance with a new handicap-accessible ramp, automatic doors, and a covered and heated walkway.
Updates at the 44 State Street facility include new lighting and a more modern, welcoming environment with new flooring, lockers and paint, and the addition of new windows. A sidewalk and a new covered patio and picnic area were added at the back of the facility.
An ADA bathroom/changing area with ceiling track lifts to transfer clients, a first aid sickbay and new medication administration area, a new laundry room, and a kitchenette with spacious counters, microwaves, and refrigerators for individuals to use during lunchtime and breaks.
New programming areas include a computer center and area to view multi-media, a multi-purpose room to enhance staff training, and a conference room close to the main entrance.
Renovation plans were developed by Larson Karle Architects in Warren, PA and work was done by Construction Services of Pennsylvania (CSI) headquartered in Union City, PA.