Holiday events a hit
Posted on December 19th, 2014 at 9:17 PM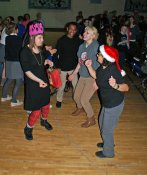 We'd like to thank the following groups and people for their help this holiday season:
Joe and Rhonda Schember (as Santa and Mrs. Claus)
Villa Maria Academy and East High School (for dancing at the Jingle Bell Hop)
Wilson Middle School Chorus (for their performance in our gym)
Our teachers, faculty and students for their tremendous spirit and attitude
To all who have donated to help "Make dreams come true" for our individuals.
And, of course, you! Thank you for your support of the Barber National Institute.