Healthy Heart Adventure Course a Hit with Students
Posted on February 28th, 2014 at 3:20 PM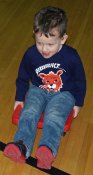 Students at the Barber National Institute got their heart rates up in order to learn more about the heart during American Healthy Heart Month.
First, they looked carefully at the drawing of the heart, gently tracing their way through the atriums, the ventricles, and then seeing that the heart sends blood to the rest of the body.
Then they took their learning to the next level.
Through an interactive Healthy Heart Adventure Course, students learned and had fun while exploring the heart and other parts of the body. The course included rolling through obstacles, ducking and jumping over things, running through colorful set-ups, and crawling through tubes to finish the course.