Group Home Completed with Erie Gives Donations
Posted on December 20th, 2019 at 2:56 PM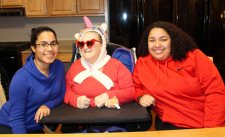 The east Bayfront is welcoming a new neighbor with the Barber National Institute opening a new residential group home. The home, located at 203 East Avenue, is designed to foster greater independence and inclusion for adults with significant physical disabilities.
The 4,800 square foot home provides:
Four spacious bedrooms providing privacy for personal care needs with a staff office located nearby.
Two living areas providing flexibility for resident's interests and preferences.
A large kitchen with portions of the counter at wheelchair level to enable residents to participate in meal preparation.
Large driveway and entryway for easier transportation
Two completely accessible bathrooms with wheel-in showers
Wider doorways and hallways
An outdoor patio that will be accented by flower gardens and trees
The $20,402 raised from 146 generous donors to the 2019 Erie Gives supported the construction of the group home.
The opening of the group home is the latest in a series of construction and renovation projects undertaken by the Barber National Institute to enhance its east Bayfront neighborhood. In 2017, a $4.2 million renovation project was undertaken to renovate and expand facilities that included the adult day and developmental programs and nursing and medical suites.