Graduation Ceremony Celebrates Student Achievements
Posted on June 5th, 2015 at 8:12 PM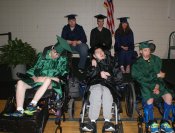 Congratulations to the 55 students who were recognized last evening during graduation ceremonies at the Barber National Institute.
Eight students received their high school equivalency diplomas, and six elementary and middle school students will move on to attend classes in their home school districts in the fall. Also, 25 youngsters graduated from early childhood programs and 16 students completed the Pre-K Counts classes in Erie and Corry and will be preparing for kindergarten.
A crowd of more than 300 parents, family members and faculty attended the event. A collection of student made butterflies provided the theme for this year's ceremony and lined the hallway to the Gym. A poem captured the emotions of many students and families who are moving on to new experiences in the community:
"We're thankful for the times
you have encouraged us to try,
For God gave us our wings,
but you have taught us how to fly."
Following the presentation of diplomas, teacher Julie Moore will lead the group in the Barber Institute song, "Celebrate What's Different." The song was written by Julie and her husband, Chris Moore, both also of Tennessee Backporch.
Check here for photos from the 2015 Graduation