Former Governor Tom Ridge To Give Keynote at Luncheon
Posted on August 26th, 2019 at 3:13 PM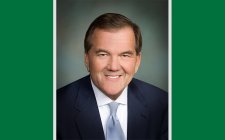 Reservations are now closed. Thank you.
Former Governor Tom Ridge will be the keynote speaker at a luncheon sponsored by the Barber National Institute to celebrate disability employment month. The event will be held Monday, October 7 from 11:30 a.m. – 1 p.m. at the Bayfront Convention Center.
The month-long commemoration promotes hiring of persons with disabilities and promotes awareness of the benefits to area employers. While the luncheon will be beneficial for area employers, anyone with an interest in employment issues or disabilities services is welcome to attend.
An Erie native elected to two terms as Pennsylvania's governor, Ridge now serves as chairman of the board of the National Organization on Disability (NOD,) a non-profit organization that promotes full participation of America's 56 million people with disabilities in all aspects of life. Ridge is involved in efforts to focus on increasing employment opportunities for Americans with disabilities by working with employers and educational and philanthropic institutions to pilot innovative approaches to inclusion.
In an editorial published in April in the Erie Times-News, Ridge called employment for Americans with disabilities "one of the great unfulfilled promises of the 1990 Americans with Disabilities Act."
Ridge's career of public service included an appointment as the nation's first Assistant to the President for Homeland Security following the attacks on September 11, 2001. He became the first Secretary of the new U.S. Department of Homeland Security in January, 2003, fulfilling a newly created cabinet post and directing the efforts of more than 180,000 employees from a combined 22 agencies focused on developing a unified national response and recovery plan, protecting critical infrastructure, integrating new technology and improving information sharing to enhance national security.
After graduating with honors from Harvard University, Ridge was attending Penn State University's Dickinson School of Law when he was drafted into the U.S. Army. He served as an infantry staff sergeant in Vietnam, earning the Bronze Star for Valor, the Combat Infantry Badge and the Vietnamese Cross of Gallantry. After returning and completing his law degree, Ridge went on to became one of the first Vietnam combat veterans elected to the U.S. House of Representatives, where he served six terms.
Currently, Ridge is chairman of Ridge Global, LLC, chairman of the Ridge Global Cybersecurity Institute and a Partner of Ridge Policy Group, LLC. He provides clients with solutions to cyber security, international security and risk management issues.
Following Gov. Ridge's luncheon address, the Barber National Institute will confer its Employer of the Year Award, recognizing a local employer that has demonstrated outstanding efforts in hiring adults with intellectual and physical disabilities and integrating them into its workforce.
Reservations for the event are $25 per person or $200 for a table of eight; deadline is Friday, Sept. 27 . Information and reservations available at BarberInstitute.org/luncheon or by calling 814-480-6810.