Erie Gives Checks Presented
Posted on August 24th, 2012 at 3:25 PM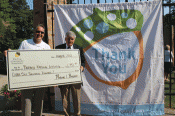 The Erie Community Foundation presented the donations raised during this year's "Erie Gives Day" at a reception held Friday, August 24 at the Erie Zoo. This marked the second year for "Erie Gives Day," a special opportunity for donors to increase the impact of all donations of $25 made to a participating nonprofit organization.
Gary Bukowski, vice president for advancement at the Barber National Institute, accepted the check, totaling $6,751, from Erie Community Foundation's Kevin E. Moore, vice president stewardship and regional affiliates.
Thank you to the 58 donors who made gifts to the Barber National Institute on this day!