Elizabeth Lee Black Selected as School of Excellence
Posted on May 10th, 2013 at 8:45 PM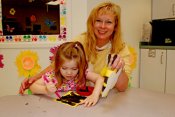 Congratulations to the Elizabeth Lee Black School which has been selected as a 2013-2014 School of Excellence by the National Association of Special Education Teachers (NASET). The selection is the highest level of recognition which an approved private special education school can achieve through the association
NASET presents the honor to schools that meet rigorous professional criteria and that have demonstrated truly exceptional dedication, commitment and achievement in the field of special education.
As a School of Excellence recipient, the Elizabeth Lee Black School is featured on NASET's website at www.naset.org. In 2008, the Elizabeth Lee Black School became the first school in Pennsylvania to be named a School of Excellence. This year, fewer than 60 schools across the country have received the designation, and only four others in Pennsylvania have received the distinction.
Thank you to the staff and faculty of the Elizabeth Lee Black School who continue to demonstrate to high quality educational programming and make dreams come true for our children with disabilities.