Elizabeth Lee Black Celebrates Student Achievements
Posted on June 7th, 2019 at 3:24 PM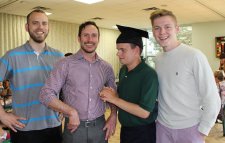 Smiles, cheers and even a few tears marked ceremonies for students graduating from the Elizabeth Lee Black School at the Barber National Institute.
Eight students received their high school equivalency diplomas and will be moving into adult services. In addition, 20 youngsters graduated from early childhood programs and 26 students completed the Pre-K Counts classes in Erie and Corry and will be preparing for kindergarten in the fall.
A crowd of more than 300 parents, family members and faculty attended the event. In addressing families and graduates, Dr. Maureen Barber-Carey said, "Even though you are moving on to different schools or experiences, you will all always be part of the Barber National Institute family. Know that we will always be here for you."
Following the presentation of diplomas, teacher Julie Moore led the group in the Barber Institute song, "Celebrate What's Different." The song was written by Julie and her husband, Chris Moore, both also of Tennessee Backporch.