ELBS 11th Year as School of Excellence
Posted on June 16th, 2018 at 1:41 PM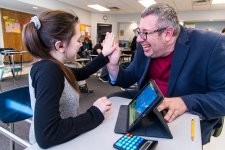 We're happy to announce that the Elizabeth Lee Black School has been selected as a National Association of Special Education Teachers (NASET) School of Excellence for the 11th year in a row.
The designation, accorded to fewer than 100 schools nationwide, is the highest honor that a school can achieve through this professional organization that is dedicated to fostering high standards in special education. Schools are evaluated on 13 criteria, including the availability of a wide range of support services, a low staff to student ration, and a dedication to meeting the individual and unique needs of students.
The Elizabeth Lee Black School serves children and adolescents ages 3-21 from 22 school districts throughout Northwestern Pennsylvania with a variety of intellectual and physical disabilities and autism. The faculty includes more than 130 teachers and assistants, behavioral analysts, speech and language pathologists and physical and occupational therapists.
"This accomplishment is really a recognition of our outstanding school faculty and staff who are so dedicated to ensuring that our students have every opportunity to achieve their greatest potential," said Dr. Maureen Barber-Carey, executive vice president of the Barber National Institute.
The Elizabeth Lee Black School has earned the designation since 2008 when it became the first school in Pennsylvania to receive the honor