Donation to Girard Funds iPads
Posted on March 29th, 2012 at 7:09 PM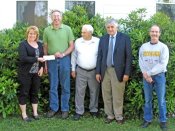 The Knights of Columbus recently presented a $1,000 donation to the West County program of the Barber National Institute. The donation will help fund the purchase of iPads for individuals to use in the various programs at the Girard-based campus.

The Knights raised the funds by collecting money outside of local banks and through a special collection at St. John's Church in Girard. The Knights have donated more than $19,000 to the Girard Campus through several fundraising efforts over the years. Much of past donations have been used to build a handicap accessible ramp.

The West County program provides opportunities for adults to build job skills and earn an income with light assembly and other contracted work.