Design the 2018 Beast Participant Shirt
Posted on January 22nd, 2018 at 6:33 PM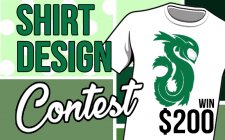 Artistic? Fitness enthusiast? We need your ideas for this year's participant t-shirt! If the Beast picks your entry, you'll win a $200 Visa gift card to spend any way you want.
Past Designs:

Here's what you need to know:

• Please keep your design to no more than four colors.
• Theme: must include the "Barber Beast on the Bay" text and beast logo.

• Email Us your design (PNG, PSD, AI, JPEG and PDF files accepted;) with your NAME, EMAIL ADDRESS, MAILING ADDRESS, PHONE NUMBER. If you are student, also provide which school you attend.

• Your design may be sketched and scanned or created on a computer. You do not have to be software savvy to enter.

• All designs must be submitted by 11:59pm on Wednesday, February 14th, 2018.

• The Beast's decision is final.
*By submitting your design, you agree that Barber Beast on the Bay and Barber National Institute may use submitted work in print or online, in part or whole, for promotion and on products for sale.*

You are encouraged to incorporate our logo (this is a registered logo that cannot be used for other purposes or products.)