Community Rallies to Donate Masks
Posted on May 13th, 2020 at 6:00 PM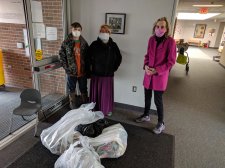 Volunteers from Mask Erie made delivered 2,500 handmade masks that the organization has made for the Barber National Institute. The masks are being distributed to employees to help keep essential employees safe as they continue serving our mission.
This is the second donation from the volunteer organization, which formed to make, donate and distribute masks to the Erie community at no cost.
In addition to Mask Erie, the Barber National Institute has also received donations from the Plastek Group, Sue Tombaugh RN and J. Rollet.