Celebrating National Employee Appreciation Day
Posted on March 5th, 2021 at 2:13 PM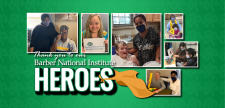 In recognition of the more than 1,475 employees carrying out the mission of the Barber National Institute, including all of those staff in the Elizabeth Lee Black School, in 95 group homes, day programs across Pennsylvania, Behavioral Health Services, Early Intervention, and all departments that support these essential services.
As we approach a full year since the pandemic changed nearly all that we do, our employees continue carrying out our mission amid this challenging time, ensuring that our children, adults and families continue to receive the highest quality support.
Celebrating all of our dedicated employees for making dreams come true.
Additional Photos