Bollinger Campus Holds Open House
Posted on June 23rd, 2023 at 6:35 PM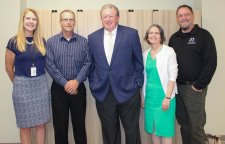 A fresh new look welcomed guests to the Barber National Institute Bollinger Campus' open house and dedication on Thursday, June 22. The event concluded a $1.4 million capital campaign and renovation to enhance and expand services to adults with intellectual disabilities and their families in the Warren-Forest County region.
The Bollinger Campus of the Barber National Institute was originally founded in 1972 by Annabel and Clifford Bollinger as a pilot project of the Warren-Forest Counties Association for Retarded Citizens (ARC).
Before its founding, individuals with disabilities had very limited opportunities for developing their skills and becoming part of the community. The Bollingers' vision was to provide meaningful employment and vocational rehabilitation services to all people with disabilities that would focus on their unique circumstances, skills and capabilities.
Renovations to the Bollinger Campus include:
· Improved lighting, painting, and flooring to the building at 48 North State Street, as well as a renovated entrance with a new handicap-accessible ramp, automatic doors, and a covered and heated walkway.
· Updates at the 44 State Street facility include new lighting and a more modern, welcoming environment with new flooring, lockers and paint, and the addition of new windows. A sidewalk and a new covered patio and picnic area were added at the back of the facility.
· An ADA bathroom/changing area with ceiling track lifts to transfer clients, a first aid sickbay and new medication administration area, a new laundry room, and a kitchenette with spacious counters, microwaves, and refrigerators for individuals to use during lunchtime and breaks.
· New programming areas include a computer center and area to view multi-media, a multi-purpose room to enhance staff training, and a conference room close to the main entrance.
Renovation plans were developed by Larson Karle Architects in Warren, PA and work was completed by Construction Services of Pennsylvania (CSI) headquartered in Union City, PA.
Additional Photos