BEi Holds Open House
Posted on May 2nd, 2018 at 12:46 PM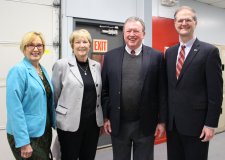 BEi, a Barber National Institute affiliate located in Warren, PA, held an open house for the community to learn more about the organization that serves adults with autism and intellectual disabilities.
Many representatives from the business, government and civic communities joined families and staff for the event, which showcased the range of services offered at the facility located at 44 North State Street in North Warren.
The organization, formerly known as Bollinger Enterprises, provides employment services, community activities and life skills development for adults in Warren and Forest Counties.
Additional Photos