Beast Fundraisers Set Record
Posted on September 10th, 2018 at 8:00 PM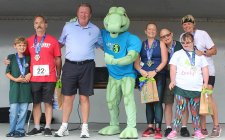 Barber Beast on the Bay participants who sign up to be fundraisers set a new record in 2018, raising more than a combined total of $21,000 to benefit the Barber National Institute.
The top three fundraisers awarded during a ceremony at the event on Sept. 8 include James Dobrich and Desiree Davis, both of Erie, and Emily Smeltz of Indiana, PA. Patrick Eller, who has led the fundraisers for five years in a row, placed fourth in 2018, followed by Dr. Kate Stark, Daniel Wisinski and Sara Forman.
More than 20 participants qualified as fundraisers in 2018, raising a minimum of $500 to receive a free registration, with 13 of those exceeding the minimum amount in donations.
The top three fundraisers received prize packages donated by fundraising sponsor Scott Enterprises.