Beast Blitz Day Happening Today!
Posted on May 28th, 2015 at 1:24 PM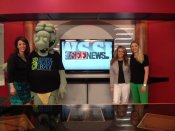 Erie residents who see a large green serpent around town on Thursday shouldn't be alarmed. It's just the Beast from Barber Beast on the Bay making the rounds with giveaways and a reminder that registration discounts for the obstacle course challenge end on May 31.
During Beast Blitz Day, the over-stuffed sea creature will be visiting local businesses and landmarks. The day will begin around 6:45 a.m. when the Beast joins LECOM Fitness Center members for a morning workout. Then, he will be off to Mercyhurst Prep to deliver a morning meal to the winner of the first "Breakfast with the Beast" contest.
At 10:30 a.m. the Beast will receive a proclamation officially declaring the day "Beast Blitz Day" from County Executive Kathy Dahlkemper on the steps of the Erie County Court House. During the rest of the day, the Beast will travel to the Rib Fest, sponsoring businesses and other locations.
Barber Beast on the Bay is one of the largest fundraisers for the Barber National Institute and will be held at Presque Isle State Park on Saturday, Sept. 12. The event features a 10-mile course over sand, trails, roadway, water and more than 20 natural and manmade obstacles, as well as a one-mile course adapted for adults with intellectual and physical disabilities.
All proceeds will assist the Barber National Institute in providing services to more than 4,200 children and adults with autism, intellectual disabilities and mental health challenges and their families.
Information and registration available at www.BarberBeast.org