Beast Award Winners Congratulated
Posted on September 11th, 2021 at 7:59 PM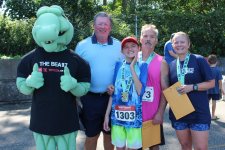 A highlight of Barber Beast on the Bay is the presentation of awards for the top three Elite Wave finishers and the top three fundraisers.
Elite Wave participants sign up to be timed and must complete all obstacles as they are designed to be eligible for awards. This year's first-place finishers received a free registration for the 2022 Beast on the Bay and framed artwork created by Erie photographer Jim Rutkowski in commemoration of the 100th anniversary of Presque Isle State Park.
The top three finishers as timed and reported by Runner's High are:
Elite Wave - Men
1st Place Andy Hellmann, 32, Erie, PA 1:22:53
2nd Place Chad Gross, 32, Cambridge Springs, PA 1:24:28
3rd Place Tadd Morris, 53, Pittsburgh, PA 1:25:25
Elite Wave - Women
1st Place Leslie Kramer, 44, Slippery Rock, PA 2:09:49
2nd Place Megan Folga, 35, Erie, PA 2:14:49
3rd Place Brandy Myers, 34, Waynesfield, OH 2:16:44
The 2021 Beast marked the sixth year that Hellman placed first in the men's Elite competition.
Fundraisers register to raise a minimum of $500 and receive a free registration for the event. The top three 2021 fundraisers received prize packages donated by our fundraising sponsor, Scott Enterprises.
The third-place award was presented to Scott Getty of Erie, a new fundraiser in 2021 who raised $750.
The first and second place winners have both been fundraisers since 2017 and have each raised thousands of dollars for the Barber National Institute. Even during this difficult year, they have remained dedicated fundraisers, and we deeply appreciate their commitment to supporting our mission.
Our second-place fundraiser is Emily Smelts from Indiana, Pennsylvania, who raised $1,205 this year.
The first-place fundraiser is James Dobrich of Erie, who this year raised $3,200. Since becoming a fundraiser in 2017, Jim has raised more than $12,000 to support the Barber National Institute.
Any participant can become a fundraiser by selecting that option during registration.
Additional Photos