Beast & Brews Returns
Posted on March 14th, 2023 at 2:16 PM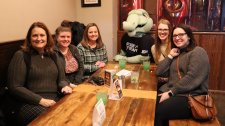 After four years away, Beast & Brews made its triumphant return on Thursday, March 9.
This year will be the 10th anniversary of the Barber Beast on the Bay and supporters gathered at the Brewery at Union Station from 5-8 p.m. to celebrate six months until the event.
It was a packed house as "celebrity" bartenders served up special drinks and cocktails, all while collecting tips to accrue donations for the Barber National Institute. In total, the 18 guest bartenders managed to raise over $7,000 to help fund a renovation project for our multi-use pool.
For the first time since before the pandemic, soon-to-be participants had the chance to register for the 10-mile course at a discounted rate and receive a limited-edition Beast & Brews t-shirt.
Additionally, Beast enthusiasts had the opportunity to purchase several new merch items – including two new Beast t-shirts, men's and ladies' quarter-zips, sling bag and more – before they launched on the online store.
From the participants to general supporters, it was clear that everyone couldn't have been more excited for this fundraiser's return.