Baseball Clinics sponsored by Siebenbuerger Club are a hit!
Posted on June 30th, 2015 at 8:02 PM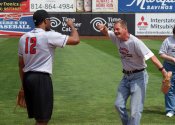 The Erie Siebenbuerger Club has funded day-long baseball clinics with the Erie SeaWolves for children and adults in programs at the Barber National Institute. Local Siebenbuerger members donated $6,000 to provide the clinic on June 29 for adults and on June 30 for youngsters in Connections Camp, a program for children and teens with high functioning autism.
At the clinic, which was held at Jerry Uht Park, Erie SeaWolves players and coaches demonstrated baseball fundamentals such as fielding, throwing, pitching and base running.
The goal is for youngsters and adults to take what they learn at the clinic and put it to use on school and neighborhood fields with their friends, classmates or in a league.
"Being able to participate in activities with your peers is an important part of childhood," said Dr. Maureen Barber-Carey, executive vice president of the Barber National Institute. "According to the Centers for Disease Control, one in 68 children is now being diagnosed with autism. With so many families living with the challenges of autism, it is especially important to provide opportunities for children that will lead to greater inclusion in their schools and community. We are thankful to members of the Siebenbuerger Club and the Erie SeaWolves for making this possible."
In addition to the instruction provided at the Clinic, participants received a t-shirt, certificate and a ticket to an Erie SeaWolves game, where they were recognized on the field before the start of play.
This is the second year that the Siebenbuerger Club funded the clinic for 30 adults and more than 60 youngsters. The donation was also used to provide baseball gloves, bats and balls for participants in need of equipment.