Barber National Institute Wins a Commitment to Erie Award
Posted on September 19th, 2013 at 5:15 PM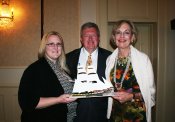 An award for Service to the Community was presented to the Barber National Institute during the second annual Commitment To Erie Awards at the Ambassador Hotel on Wednesday, Sept. 18. The Award was one of nine categories established to recognize small and large area businesses and non-profits for their commitment to serve the Erie region.
The Barber National Institute was nominated by Katie Maffeo, an associate director in Intellectual Disabilities Services for Adults. In making the nomination, Katie shared her perspective as an employee who joined the organization four years ago after relocated to Erie from Florida. "Our organization has fostered a culture that focuses on the individual's abilities instead of disabilities, even when it means overcoming significant obstacles and challenges," Katie wrote.
She concluded the nomination by saying, "It is indeed a pleasure to be part of an organization where everyone—from the children, adults, families and staff—is treated with such a deep sense of respect and value." To read the nomination, click here.
The award was accepted by John Barber, president and chief executive officer, and Dr. Maureen Barber-Carey, executive vice president.
For more information about the awards presentation visit http://goerie.com/several-honored-with-awards-for-commitment-to-erie-2013-09-18-21-52
Pictured: Katie Maffeo, left, nominated the Barber National Institute for a Commitment to Erie Award. John Barber and Dr. Maureen Barber-Carey accepted the award, which is a metal replica of the U.S. Brig Niagara.