Barber National Institute "Ladies Only Luncheon" Raises Funds for the Elizabeth Lee Black School and Family Programs
Posted on November 20th, 2023 at 6:16 PM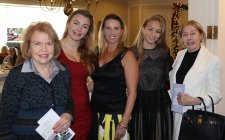 Erie, PA (November 18, 2023) – Twenty-one years ago, a mom had an idea for a new fundraiser to benefit her daughter's school. That idea, the Ladies Only Luncheon, continues to be a popular holiday tradition today, raising funds for services for children and families at the Barber National Institute including the nationally recognized school of excellence Elizabeth Lee Black School.
The luncheon event was held on Saturday, Nov. 18 at the Kahkwa Club. Time for socializing began at 11:30 a.m., with the luncheon starting at 1 p.m.
Ever since its inception, the event has sold out within days, with more than 400 guests attending this year. The highlight continues to be a raffle of gift baskets valued at a minimum of $300 each.
Drawings also were held for three "Premier Prizes," a dinner and wine tasting for eight guests at The Cork, a dinner for eight in the winner's home prepared by noted Erie chefs Jen Kenney and Kal Darres and a Kate Spade purse, wallet, weekender bag, pendant and matching earrings.
Right on the heels of the luncheon is another signature Barber National Institute event, the annual Christmas Ball. More than 1,000 guests are expected for the dance gala, "Shining Bright, Winter Night," hosted by the John and Colleen Bloomstine family on Saturday, Dec. 9 at the Bayfront Convention Center.
-30-
About the Barber National Institute
The Barber National Institute provides children and adults with autism, intellectual disabilities, and behavioral health challenges and their families the education, support, and resources needed to be self-reliant, independent, and valued members of their community. In addition, we provide the professionals who serve them with world-class education and training. Its Elizabeth Lee Black School is a nationally recognized school of excellence that serves a very diverse group of learners.
The Barber National Institute serves more than 5,200 individuals statewide with offices in Erie County, Pittsburgh, Somerset, Bedford and Philadelphia, PA. The Barber National Institute employs over 2,800 people.