Barber National Institute Construction Kickoff Celebration
Posted on November 13th, 2023 at 2:50 PM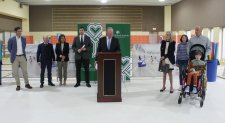 Erie, PA (November 9, 2023) – Barber National Institute leadership and donors celebrated the beginning of its $3M pool and natatorium renovation on Thursday, Nov. 9 at 1:30 p.m. at Barber National Institute in Erie.
"Today is a very special day as we begin the construction and renovation of our pool and natatorium. We announced this important project in August 2022 and have been engaging our donors to raise the funding for this project," said Barber National Institute President and CEO John Barber. "The Barber National Institute pool and natatorium have been a valued community resource since opening on the Erie campus in 1979. It makes us all so happy to know that in a few months, this pool will once again provide invaluable therapeutic and recreational enjoyment for students and adults at the Barber National Institute, as well as hundreds of children who learn to swim in our pool."
When constructed more than 40 years ago, the Barber National Institute pool was one of the first in the nation to have a moveable floor that could be raised and lowered to meet varying needs. It can be raised to deck level so that wheelchairs can be moved onto the pool floor and then lowered into 4.5 feet of water.
"Due to wear and tear of nearly daily use over the past 40+ years, the pool needs its first major renovation," said Barber National Institute Senior Vice President Robert Barber. "Plans include additions and updates to the hydraulic system that raises and lowers the floor, updated locker room and shower facilities accessible for people with disabilities, and a state-of-the-art filtration system."
The project's architect is Weber Murphy Fox and the construction manager is Frontier General Contracting. Construction is expected to begin in mid-November.
Attendees were invited to cut the construction tape and sign a piece of plywood to be used in the renovation to signify the kick-off of construction.
-30-
About the Barber National Institute
The Barber National Institute provides children and adults with autism, intellectual disabilities, and behavioral health challenges and their families the education, support, and resources needed to be self-reliant, independent, and valued members of their community. In addition, we provide the professionals who serve them with world-class education and training. Its Elizabeth Lee Black School is a nationally recognized school of excellence that serves a very diverse group of learners.
The Barber National Institute serves more than 6,000 individuals statewide with offices in Erie County, Pittsburgh, Somerset, Bedford and Philadelphia, PA. The Barber National Institute employs over 3000 people.