Barber Beast on the Bay Raises over $60,000
Posted on October 31st, 2014 at 5:10 PM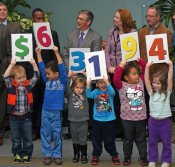 The numbers flipped over and the total was revealed - $63,194!
That's how much was raised by the Barber Beast on the Bay, which took place September 6. Over 1,100 participants and 100 adapted course participants took to Presque Isle for a fun day that also benefited the Dr. Gertrude A. Barber Foundation.
In a press conference held Wednesday, Pre-K Counts students held cards to reveal the total proceeds. The date for next year's event, September 12, was revealed, and a 50% discount from now until November 30 was instituted.
Thank you to all the sponsors, volunteers and others who made this year's Beast so successful!