Band Together Pittsburgh Donation
Posted on February 2nd, 2019 at 1:42 PM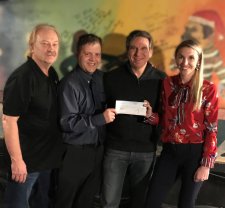 Band Together Pittsburgh recently raised $510 for the Barber National Institute through a series of raffles that the music promotion group held at events throughout the Pittsburgh area.
The Barber National Institute will use the donation for programs for adults with autism and intellectual disabilities who are working toward greater independence and inclusion in the community. The agency provides a range of day programs and supported employment services from facilities located in Bridgeville, in addition to six residential group homes in the Moon Township area.
Band Together Pittsburgh is a nonprofit organization that uses the power of music to engage youth on the autism spectrum and their families. Programs include creative open mic events, drum circles, and professional DJ services. "Music brings people together and Band Together is creating pathways to help those on the autism spectrum build new skills," said co-founder Ron "Moondog" Esser.