Awards Presented in Philadelphia Region
Posted on May 2nd, 2012 at 6:44 PM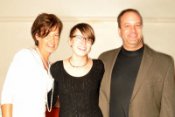 The Philadelphia Region of the Barber National Institute recently presented two awards to recognize outstanding performance and dedication from a staff member and in a residential group home. Ann Sherman, a community support professional in the Community Endeavors Program, received the Employee of the Year Award, and the Welsh Road home was named House of the Year.
Since joining the Barber National Institute a year ago, Ms. Sherman has established a strong rapport with the individuals she serves. Her ability to bring out the best in those facing challenges illustrates her genuine concern and dedication. She is also very resourceful in seeking innovative solutions to problems and meeting needs. When Ann saw that the use of sign language would be beneficial in working with several adults, she took an American Sign Language class during her free time. She has also assisted new staff members in making a more successful transition into the program.
The Welsh Road home met the criteria for the House of the Year Award, including outstanding care of the individuals, community involvement, and creating a positive atmosphere and feeling in the home.