Avast, maties! Students hop aboard Scallywags pirate ship
Posted on July 31st, 2014 at 7:20 PM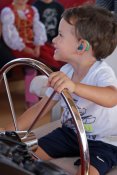 Several students boarded Scallywags pirate ship for an awesome water adventure earlier today.
A great time was had by each student, even the ones who were initially nervous about coming aboard. Some things we learned: Getting beards painted on tickles, it's fun to shoot water cannons, there's plenty of treasure aboard a pirate ship, and driving the ship is a breeze!
Did we have fun today? Aye, aye, captain!